Sage 300cloud business management software
Need help managing your finances, operations, or inventory? Do you also have the added complexity of dealing in different languages and currencies? Our solution will help you improve visibility within your company at a fraction of the cost of traditional ERP software.
More Info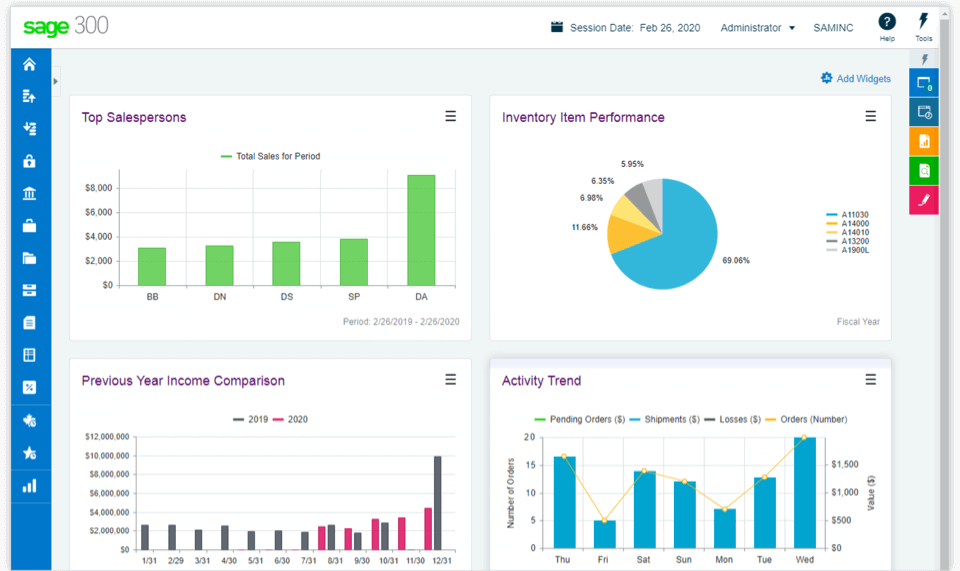 Prepare your business for growth today
Prepare your business for growth today
Sage 300cloud cloud-connected software can help prepare your business for growth. You'll love how easy it is to manage your accounting, inventory, operations, distribution, and more.
Simplify your financials
Looking to improve efficiency and increase the effectiveness of your manufacturing, distribution, or retail business? Sage 300cloud takes the complexity out of managing your business finances across borders, in multiple currencies and locations.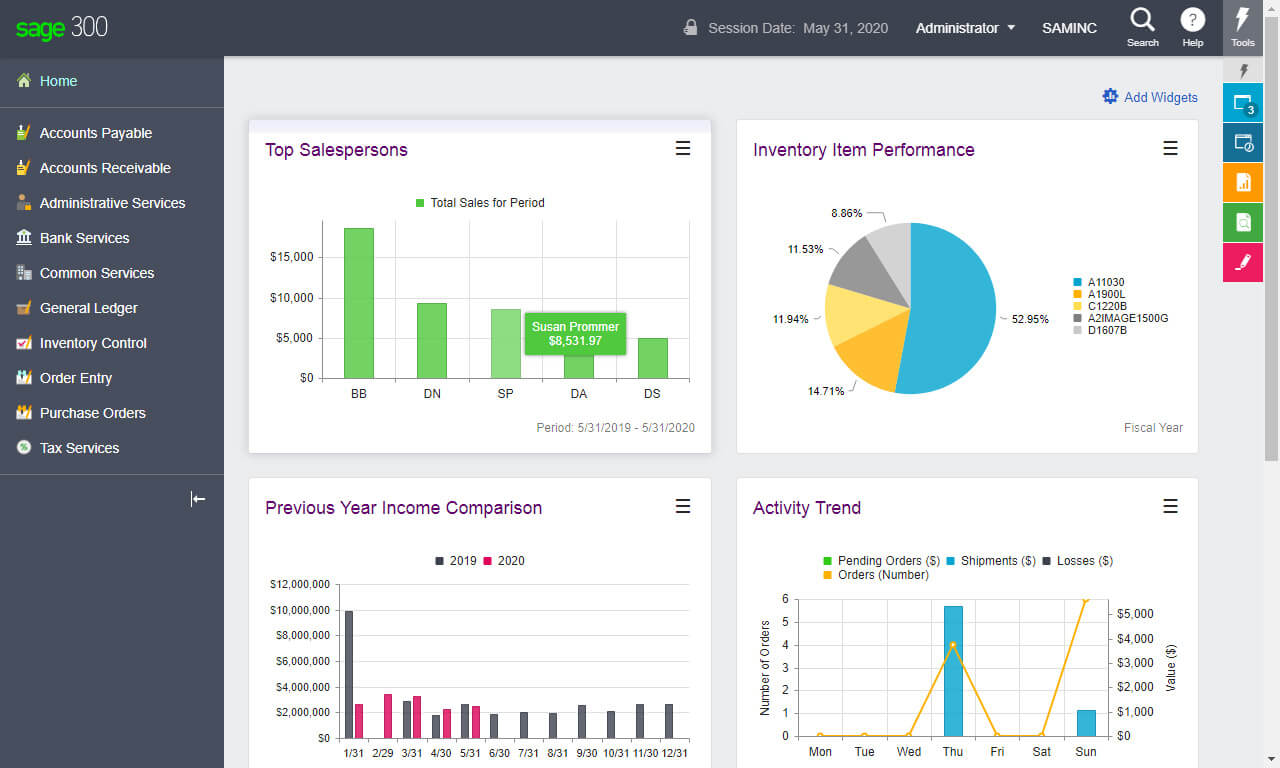 Manage multiple companies and currencies
Unlike typical ERP software, Sage 300cloud makes it easy to set up and manage multiple companies, close books, and report results by company or consolidated company.

Eliminate international business complexity
With Sage 300cloud, you can maintain an unlimited number of currencies and exchange rates, get daily updates, and automate the gains or losses from fluctuations.

Simplify inventory management
Ship orders on time, from multiple locations. Simplify your inventory—including shipments, returns, and adjustments—with multi-location inventory tracking.

Automate your finances
Simplify your monthly bank reconciliations. Detect unrecorded transactions, errors and differences, and easily correct to reconcile your books with your bank statements.
Move beyond ERP and do business your way
Move beyond ERP and do business your way
Find out what Sage 300cloud will do for your business.

Process and track domestic and international orders
Make it easy for your customers to place orders and monitor their account status 24 hours a day. Enable your employees to be more productive. Increase the accuracy of your orders.

Strengthen vendor relationships and streamline purchasing
Make the right decisions sooner by automating and adding visibility to every facet of your purchasing process. Save time by synchronizing process requisitions, purchase orders, receipts, invoices and returns.

See how sales and marketing are performing
Create a single customer view across your organization. Open up new opportunities for growth with greater insight into business performance, better efficiency and productivity, and more effective communications.
Increase the success of your projects
Increase the success of your projects
Keep projects on schedule and on budget with flexible estimating, tracking and project billing. Manage resources and track costs to the required level of detail for your projects.
Your business ecosystem
Your business ecosystem
A powerful solution that integrates with the tools you already have and helps you run your business more efficiently.

Sage CRM
With customer relationship management software, you have the tools to find new customers, reduce sales cycles and build lasting, more profitable relationships.

Sage Inventory Advisor
Our inventory management software for companies with one or more warehouses and 1,000+ SKUs, provides an inventory health check, produces quality forecasts, reduces time spent on manual tasks, and finds the optimal investment for achieving target fill rates.

Paya
Improving payment processing is easy. Accept credit, debit, checks and mobile payments in store, online, over the phone or on site with your customers.

Get printed cheques
Save time by printing cheque details from Sage 300. Cheques are 100% compatible with Sage 300 and include security features to help prevent fraud.

Sage Enterprise Intelligence
Get better control of your business data. Helps you automate your reporting needs, analyze your data to make better informed decisions, more quickly, across your entire business.

Manage and track your assets
Eliminate lost and stolen assets and reduce insurance costs by gaining visibility and control over your entire fixed asset lifecycle. Sage Fixed Assets with Sage 300cloud helps you track your fixed asset inventory so you can take control of your business.

Sage Alerts & Workflow
Sage Alerts & Workflow monitors and responds to any conditions that are of key importance to your business such as overdue invoices, low stock levels and changes in customer buying habits. It alerts the appropriate people and delivers relevant forms and executes an intelligent workflow.

Register for a webcast
Sage 300cloud has a powerful ecosystem of add-ons that help with running a more efficient business. Join a webcast from one of our independent software vendors (ISV) and explore these add-ons.
Transform the way you tackle Accounts Payable
Why not simplify the way you work?
With Sage AP Automation, you can completely transform the way you tackle Accounts Payable. Work with freedom and flexibility from the cloud, save time by automating manual processes, and run your business with more efficiency.
There's no better time to move to the cloud
The power of Sage 300, now available in the industry-leading Microsoft Azure cloud
Moving to the cloud has never been more essential to the survival and strength of your business. With the help of certified Sage partners, you can deploy Sage 300 in nearly any type of public or private cloud.
Now you can deploy Sage 300 in Microsoft Azure and enjoy the flexibility and reliability that Fortune 500 companies trust, including:
Data migration in a single day with no retraining necessary
Multi-layered security
On-demand scalability
Improved operational efficiency
Overall reduction of IT costs
Flexibility of remote access
Sustainability of a carbon-neutral cloud platform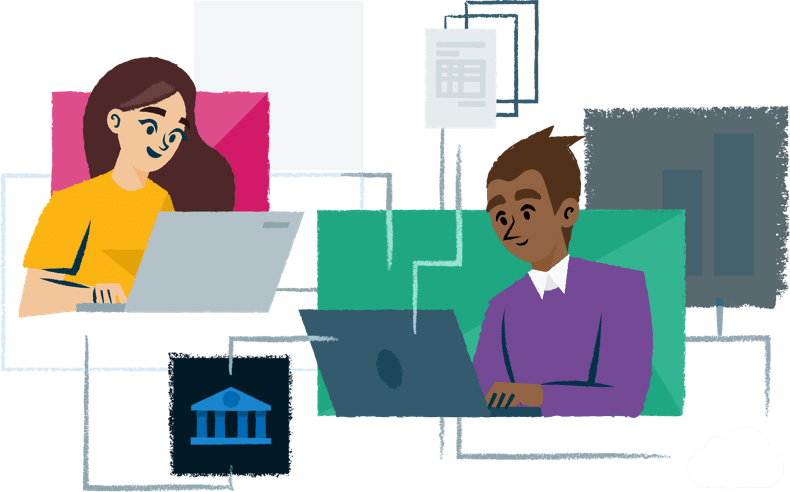 Office
P.O. Box 115W Worthing,
Christ Church, Barbados
Email Us
info@orchidsoftwaresolutions.com